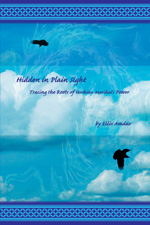 Ellis Amdur's writing on martial arts has been groundbreaking. In this volume, Amdur has radically reworked his iconoclastic essays first published on the website of Aikido Journal. Here, he attempts to establish the existence of something all but lost in Japanese martial arts — a sophisticated type of training, encompassing mental imagery, breath-work, and a variety of physical techniques that offered the practitioner the potential to develop skills sometimes viewed as nearly superhuman. Commonly referred to as "internal training," and usually believed to be the provenance of Chinese martial arts, Amdur asserts that not only was it once common among many Japanese martial traditions, but elements of such training still remain, passed down in a few martial arts — literally "hidden in plain sight." As always, Amdur reminds us that this is a human endeavor and he provides vivid, even heartbreaking portrayals of some of the great practitioners of these skills, men who devoted their lives to an obsessive pursuit of power.
This edition is out of print.  A revised/significantly expanded edition, with a number of new chapters, and updated information is scheduled for publication by Freelance Academy Press in February, 2018. 
Table of Contents:
Dedication
Acknowledgements
Author's Notes
Forward
SECTION 1 – THE CULTIVATION OF POWER
Chapter 1 – Physical Culture: A Uniquely Human Preoccupation
Chapter 2 – The Development of Specialized Martial Strength
Chapter 3 – Connected Strength – a Comprehensive Form of Physical Organization
SECTION 2 – HEAVEN AND EARTH WITHIN MAN
Chapter 4 – The Chinese Connection
Chapter 5 – Kitō-ryū: Rising and Falling
Chapter 6 – Yoshin-ryū: A Garden of Willows
Chapter 7 – Tenjin Shinyō-ryū: Heaven and Man
Chapter 8 – What Happened to Jūjutsu?
SECTION 3 –DAITŌ-RYŪ: THE PAST IS FUTURE
Chapter 9 – Aizu Bujutsu: Takeda Sokaku's Birthright
Chapter 10 – Takeda Sokaku: Opening our Eyes to True Budō
Chapter 11 – The Heart of Aiki is the Sword: Takeda Sokaku's Legacy
Chapter 12 – Aiki Nitō Hiden
SECTION 4 -AIKIDŌ AND UESHIBA MORIHEI: MORE THAN A MARTIAL ART & MORE THAN A MARTIAL ARTIST
Chapter 13 – Is the Heart of Aikidō the Sword?
Chapter 14 – Aikidō is Three Peaches
Chapter 15 – Hidden in Plain Sight
Chapter 16 – Circle, Square, Triangle: How to Be O-Sensei in Sixteen Easy Steps
EPILOGUE – 'Mada! Mada!' ('Not Yet! Not Yet!')
APPENDICES
Appendix A – Find Out Yourself
Appendix B – Cast of Historical Characters Mentioned in the Text
Appendix C – Glossary