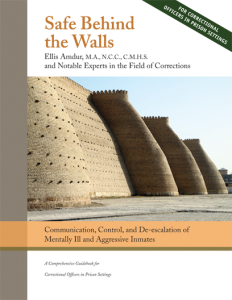 For those not entirely familiar with my work, all of the books in this series, in a general sense, share the same strategies and tactics. These strategies are applied, however, to the specific circumstances in which those in one or another profession will encounter potentially aggressive and/or emotionally disturbed individuals. I have written many of the books in this series alone, based on my own professional experience and research. Others, however, have required a collaborator, someone from the profession of concern, able to provide input from the front lines, so to speak. Still others are my work with the assistance of a cadre of critical readers–in a sense, I end up with five to ten subject-matter experts. Safe Behind the Walls is of the last category—overall management of safety within a prison environment is far outside my 'lane.' I have been working with some critical readers for several years – I'm looking for a few more. The manuscript is currently in limbo–about 80% complete. I hope to have it completed by the end of 2017.
At this time, correctional officers who work in a prison environment who wish to learn my de-escalation strategies should purchase Safe Behind Bars. The bulk of this book is EXACTLY what Safe Behind the Walls will be. There is one major section of the two books that is different, the section on management and systems development, because the jail and prison environment are quite different. Nonetheless, front line correctional officers who wish to acquire the information for direct interactions which require information on how to de-escalate mentally ill and emotionally disturbed inmates will find exactly what they need in Safe Behind Bars.
Beyond this, if anyone reading this page believes that they would be suitable as a critical reader for Safe Behind the Walls, please contact me through this website. I am looking for individuals who are direct line staff as well as those who have worked their way up the ranks from correctional officer into higher levels of administration. Please contact me, and I will be happy to discuss the possibility of a collaboration.