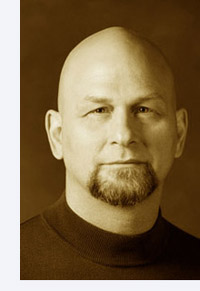 Ellis Amdur has worked in the field of crisis intervention since 1989. He has developed a range of training and consultation services, as well as a unique style of assessment and psychotherapy. These are based on a combination of phenomenological psychology and the underlying philosophical premises of classical Japanese martial traditions. He received his B.A. in psychology from Yale University in 1974, and his M.A. in psychology from Seattle University in 1990. He is both a National Certified Counselor and a State Certified Child Mental Health Specialist.  Ellis's professional philosophy can best be summed up in this idea: the development of an individual's integrity and dignity is the paramount virtue. This can only occur when people live courageously, regardless of the circumstances, and take responsibility for their roles in making the changes they desire.
Ellis is a dynamic public speaker and trainer who presents his work throughout the U.S. and internationally. He has been a lead trainer for close to one hundred law enforcement and correctional institutions on crisis intervention related subjects, as well a a greater number of hospitals, social services agencies and businesses. He is noted for his sometimes outrageous humor as well as his profound breadth of knowledge. Ellis's vivid descriptions of aggressive and emotionally disturbed people and his true-to-life role-playing of the behaviors in question give participants an almost first-hand experience of facing the real individuals in question.
He has authored and self-published ten books on the verbal de-escalation of aggression and calming of agitated mentally ill people, some with subject matter expert co-authors, all available on this site, as well as Shapeshifting: Scenario Training for Hostage Negotiation Teams, co-written with Fmr. Sgt. Lis Eddy.
Running parallel to his professional life, he has trained and taught classic Japanese combat arts for nearly 50 years, spending thirteen of these years studying in Japan. He is a recognized expert in classical and modern Japanese martial traditions, and has authored three iconoclastic books and one DVD on this subject.
Finally, he has published two works of fiction: a historical novel set in pre-modern Japan, The Girl with the Face of the Moon and a graphic novel, Cimarronin, co-authored with Neal Stephenson, Charles Mann and Mark Teppo.
Links to Ellis Amdur's other websites that are connected to Edgework Books

www.edgework.info – This is the professional website of Ellis Amdur's Edgework: Crisis Intervention Resources PLLC, concerning Edgework training and institutional consultation.
www.edgeworkcounseling.org – This website concerns Ellis Amdur's practice of consultation in crisis situations for professionals and lay-people.
www.kogenbudo.org – this website focuses on Ellis Amdur's martial arts related writing and practice.